Skip to end of metadata
Go to start of metadata
The NORDUnet 2017 tender for a Media Management Solution:
NORDUnet currently operate and deliver a Media Management System Service based on the Kaltura On-Prem Edition, to the NRENs in Denmark (DeIC), Finland (CSC/FUNET) and Norway (UNINETT) and their connected institutions. For Sweden (SUNET) the Service is provided using the Kaltura SaaS Edition.
The scope of this procedure is to enable NORDUnet to purchase a Media Management Solution that is a managed on premise installation, that has the capability to be multi-tenant, to allow NORDUnet and subsequently the Nordic NRENs to resell the service to their connected and member organisations. The solution is to cover the full scope of the existing services as described above.
NORDUnet is inviting potential suppliers of Media Management Solutions to bid for a contract according to the requirements put forward and developed throughout the process.
The Tender is published under OJEU TED publication number: 2017/S 026-046602.
Below you will find the tender process and relevant documents as they are release during the process.
Any questions regarding this tender to be send to tender@nordu.net with <NORDUnet Media Management tender 2017> in the subject field.
Anonymized answers to tender questions can be found on the NORDUnet 2017 tender for a Media Management Solution Q&A
Procurement processs and timeline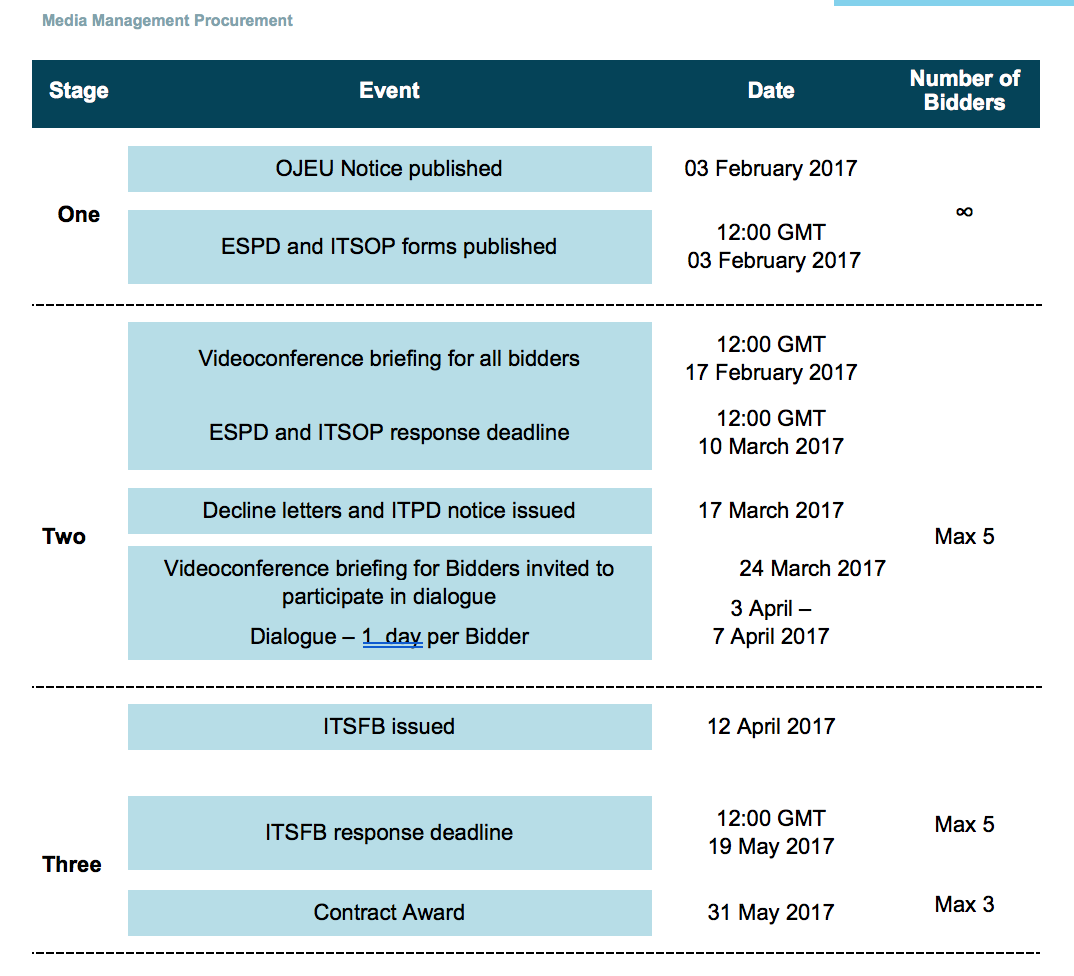 Documents for download

-Pre-qualification (ESPD & ITSOP)

NORDUnet Media Management Solution procurement ITT.pdf
NORDUnet Media Management Solution Procurement procurement ITSOP vol 1.pdf
NORDUnet Media Management Solution procurement ITSOP vol 2.pdf
NORDUnet Media Management Solution procurement ITSOP vol 2 reply form.docx

NORDUnet Media Management Solution Contract Template ITSOP vol 3.pdf
-Invite To Participate in Dialogue  (ITPD)
NORDUnet Media Management procurement ITPD.pdf

-Invite To Submit Final Bid (ITSFB)
-Evaluation and Contract award
---
---